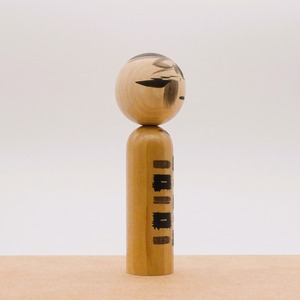 Kasuri かすり  ※ 功セレクション
佐々木こけし工房の新型こけしの特徴として特に違いがはっきりしているのが目の描き方である。このかわいらしい目は「稲穂」と呼ばれ、他の誰も真似できない独自のデザインだ。
> 引き継がれる修錬の技 < 
佐々木功工人の師匠であり父の克己工人(新型こけし工人・白石市産業功労者)から引き継ぎ継承して作り続けられている作品で、観光地のお土産さんから注文を受け作ってきた人気の新型こけし。全日本こけしコンクールで賞をとった当時のものと比較しても、モチーフ一つひとつを大切に守っているのがわかる。
 時は昭和23年にまで遡る。工房の初代佐々木克己工人(2008年没)が白石に移り住んだのはもう70年以上も前のこと。はじめは映画館の撮影技師をしながらこけし制作を学び始めたそうで、我妻吉助工人(遠刈田系)に教わり本格的にこけし制作に打ち込む。伝統的なこけしを繰り返し描くうちに自由に自分のこけしを作りたいとの思いがつよくなり、昭和29年に独立。新型こけしが発祥した昭和20年代ちょうどその最盛期の頃である。

These cute eyes are called "Inaho" and have a unique design that no one else can imitate.
"Inaho" is ear of rice.
"Kasuri" is a traditional kimono pattern.
> Training skills inherited <
 It is a work that has been handed down from his father Katsumi Artisan (new type kokeshi craftsman, Shiroishi City Industrial Meritorious Worker) who is a master of Isao Sasaki craftsman and continues to make it. A new type of kokeshi doll. Even if you compare it with the one that won the All Japan Kokeshi Competition, you can see that each motif is carefully preserved.
 The time goes back to 1948. It has been over 70 years since the founder of his own Kobo(studio), Katsumi Sasaki (died in 2008), moved to Shiroishi. At first, he started learning how to make kokeshi dolls while working as a cinematographer at a movie theater. While repeatedly drawing traditional kokeshi dolls, he developed a strong desire to freely create her own kokeshi dolls, and became independent in 1954. The 1940s, when the new type of kokeshi was born, was just around the time of its peak.
*Earliest delivery date is 4/4(Tue) (may require more days depending on delivery address).
*Tax included.
*Limit of 1 per order.
*Additional shipping charges may apply, See detail..

About shipping fees
The shipping fee for this item varies by the shipping method. Customers can choose the shipping method at time of purchase.
Yamato Transport

Your delivery status can be checked online.

Shipping Fees are the same all over country inside Japan ¥960

Yu-Pack

Your delivery status can be checked online.

Regional setting
EMS

This shipping supports package tracking and compensation for damages.

Regional setting

Afghanistan

Bangladesh

Bhutan

Brunei

Cambodia

China

Guam

Hong Kong

India

Indonesia

Laos

Macao

Malaysia

Maldives

Marshall Islands

Micronesia, Federated States Of

Mongolia

Myanmar

Nepal

North Korea

Northern Mariana Islands

Pakistan

Palau

Philippines

Singapore

South Korea

Sri Lanka

Taiwan

Thailand

Timor Leste

Vietnam

Australia

Christmas Island

Cocos (Keeling) Islands

Cook Islands

Fiji

French Polynesia

Kiribati

Nauru

New Caledonia

New Zealand

Niue

Norfolk Island

Papua New Guinea

Pitcairn

Samoa

Solomon Islands

Tonga

Tuvalu

Vanuatu

Wallis and Futuna

American Samoa

Anguilla

Antigua and Barbuda

Aruba

Bahamas

Barbados

Belize

Bonaire, Sint Eustatius and Saba

Canada

Cayman Islands

Costa Rica

Cuba

Dominica

Dominican Republic

El Salvador

Grenada

Guadeloupe

Guatemala

Haiti

Honduras

Jamaica

Martinique

Mexico

Montserrat

Netherlands Antilles

Nicaragua

Panama

Puerto Rico

Saint Barthélemy

Saint Kitts and Nevis

Saint Lucia

Saint Martin

Saint Pierre and Miquelon

Saint Vincent and the Grenadines

Sint Maarten

Trinidad and Tobago

Turks and Caicos Islands

U.S. Virgin Islands

United States

Virgin Islands, British

Bahrain

Cyprus

Iran, Islamic Republic Of

Iraq

Israel

Jordan

Kuwait

Lebanon

Oman

Palestinian Territory, Occupied

Qatar

Saudi Arabia

Syria

Turkey

United Arab Emirates

Yemen

Aland Islands

Albania

Andorra

Armenia

Austria

Azerbaijan

Belarus

Belgium

Bosnia and Herzegovina

Bulgaria

Croatia

Czech Republic

Denmark

Estonia

Faroe Islands

Finland

France

Georgia

Germany

Gibraltar

Greece

Greenland

Guernsey

Holy See (Vatican City State)

Hungary

Iceland

Ireland

Isle of Man

Italy

Jersey

Kazakhstan

Kosovo

Kyrgyzstan

Latvia

Liechtenstein

Lithuania

Luxembourg

Malta

Moldova

Monaco

Montenegro

Netherlands

North Macedonia

Norway

Poland

Portugal

Romania

Russia

San Marino

Serbia

Slovakia

Slovenia

Spain

Svalbard and Jan Mayen

Sweden

Switzerland

Tajikistan

Turkmenistan

Ukraine

United Kingdom

Uzbekistan

Argentina

Bolivia

Brazil

Chile

Colombia

Curaçao

Ecuador

Falkland Islands (Malvinas)

French Guiana

Guyana

Paraguay

Peru

Suriname

Uruguay

Venezuela

Algeria

Angola

Ascension Island

Benin

Botswana

Burkina Faso

Burundi

Cameroon

Canary Islands

Cape Verde

Central African Republic

Ceuta and Melilla

Chad

Comoros

Congo

Congo, The Democratic Republic Of The

Côte d'Ivoire

Djibouti

Egypt

Equatorial Guinea

Eritrea

Eswatini

Ethiopia

Gabon

Gambia

Ghana

Guinea

Guinea Bissau

Kenya

Lesotho

Liberia

Libya

Madagascar

Malawi

Mali

Mauritania

Mauritius

Mayotte

Morocco

Mozambique

Namibia

Niger

Nigeria

Reunion

Rwanda

Sao Tome and Principe

Senegal

Seychelles

Sierra Leone

Somalia

South Africa

South Sudan

Sudan

Tanzania

Togo

Tristan da Cunha

Tunisia

Uganda

Western Sahara

Zambia

Zimbabwe

Bermuda

Bouvet Island

French Southern Territories

Heard Island and McDonald Islands

Indian Ocean Territory, British

Saint Helena

South Georgia and the South Sandwich Islands

Tokelau

United States Minor Outlying Islands
🌳 セレクションのこだわり  Commitment to selection
必ず木目模様の良さが見えること。木目模様が個性となり、たった一つのとっておきになることで大事にしてもらえるようにとの願いを込めています。
※手作りのために表情や模様に個体差が生じます。
※画像の木目や色の見え方は少し異なります。予めご了解のうえ、お申し込み願います。

Be sure to see the goodness of the wood grain pattern. We hope that the wood grain pattern will be unique and that you will cherish it by making it your one and only treasure.
※ Please note that the grain of the wood is not visible in "Hitoyasumi" due to its characteristics.
※ The grain and color of the image may vary slightly. Please be aware of this before applying.

■製作 Production
佐々木功:佐々木こけし工房(新型こけし専門の工房)
Isao Sasaki : Sasaki Kokeshi Kobo (a workshop specializing in contemporary style dolls)

■高さ Height 18cm
 ※箱サイズ Box size 6.6×6.4×18.7cm

■重量 Weight
150g

■材料 Wood
ミズキ Dogwood